MASCOT NEEDED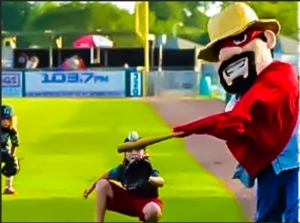 "EDDY" the Cane Cutter
Submit Resume and Inquiry to
---


DUTIES AND RESPONSIBILITIES:

Perform in costume at Cane Cutters home games
Represent the Acadiana Cane Cutters in a pleasant, enthusiastic, and professional manner
Coordinate and execute in-game promotions and visits as assigned by the Front Office Staff of Cane Cutters baseball

JOB REQUIREMENTS:

In-costume mascot experience and/or experience working with mascots preferred.
Ability to properly function in and perform creatively in a mascot costume – extremely hot
Must be able to stand for long periods of time, walk long distances, climb up/down stairs, stoop, kneel, crouch, or sit.
Availability to work during Cane Cutters 28 home games
Consistent, punctual and regular attendance.
Possess basic knowledge of the game of baseball
Strong ability to work well with co-workers and supervisors in a team environment.

Submit Resume and Inquiry to
[email protected]